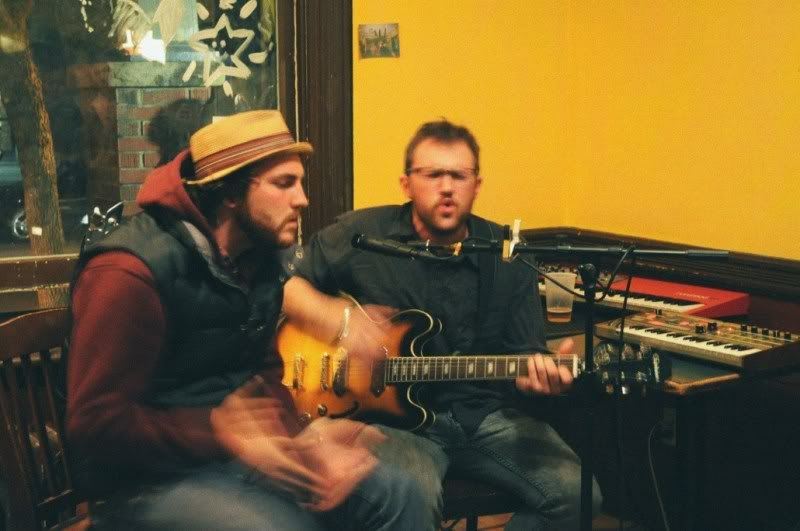 Hi friends, we're almost at 20 000 views! That's not crazy-impressive but hey! If you like us, share! Tell your buddies, "Like" us on facebook and we'll give you a kiss. As exams/finals wind down, J and I are finding WAY more time for blogging so expect some pretty exciting stuff in the very near future (remember Capital-Oh-So-Cute from last summer? I'm on it as we speak). Also, J's at the Junos currently (IKR), so tweet @capitaloh for that. In the meantime, here's more from concert-goer/blogging-babe Lim with the lowdown on last weekend's bitter sweet good-bye party for music haus Cafe Nostalgica. Yeehaww! - S
This is the end of an era, Café Nostalgica has reached its end. On Friday, its past and new guests had gathered to pay a tribute to the last standing moments of the wonderful house.
For those of you who visited Café Nostalgica over the years, for breakfast, a drink or a show, this place will be missed dearly. I have had the chance to go to a few different events this past year and enjoyed an atmosphere of music, authenticity and art. And for all of you who never had a chance to come by, you can rest assure! Café Nostalgica is closing down for reconstruction so hopefully you will be able to create new memories and experiences there in no time!
Last Friday consisted of an open mic that begun in the morning and continued later on into performances of the Nostalgica employees (with the wonderful "Nostalgica Blues" song), past musical guests, music enthusiasts and friends!
Café Nostalgica, thank you for the great experiences, I hope the next building will be just as amazing! - Lim